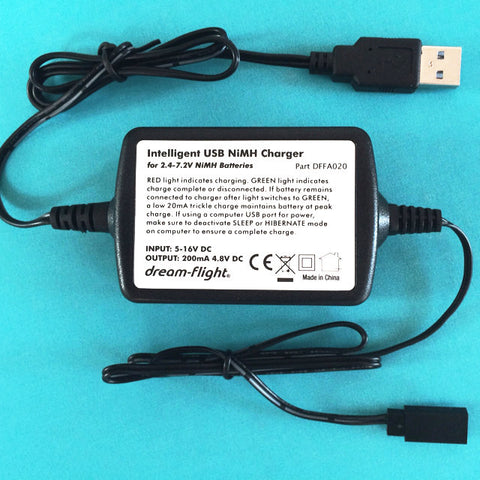 Part DFFA020
Just like charging your phone! Utilize any USB port to charge your Dream-Flight receiver batteries.
Perfect for the home work bench, or take it with you on the go. Just plug in any of our NiMH batteries and wait for the GREEN light. It's that easy!
Specifications:
Input: 5-16V DC (any USB power port)
Battery pack voltage range: 2.4-7.2V NiMH
Battery chemistry: NiMH batteries only
Average charging current: 200mA for a typical 4.8V Rx pack.
Trickle charge current: 20mA (if battery is left plugged in after LED switches to green)
Hot Tip: If using a computer USB port for powering charger, make sure to deactivate SLEEP or HIBERNATE mode on the computer to ensure a complete charge.